This week's featured application comes to us from Keith Thykeson with Pioneer Synthetic Turf in Thousand Oaks, California. The homeowner had a putting green installed in their backyard that just simply was not holding up well. The green was run down along with the fringe and landscaping around it. Instead of being a beautiful functional space, it had devolved into an eyesore that no one wanted to use. Fortunately, the homeowner came across Pioneer Synthetic Turf's work and knew they need the quality Synthetic Turf International products and craftsmanship that Keith and his team routinely provide the homeowners of California.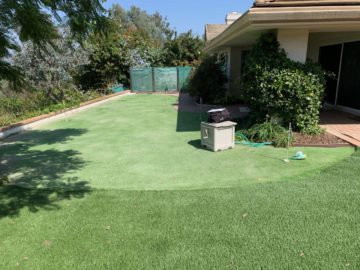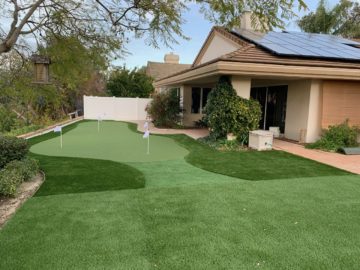 The clients loved Pioneer's workmanship, products and design. They needed a nice-looking lawn, Softlawn fit the bill perfectly, and paired with our EZTee they had the makings of the perfect backyard. They couldn't be more pleased with the final results. "We wanted something looked great but was also fun and functional space to practice our short game in, Keith and his team delivered that and more," said the homeowner.
About Pioneer Synthetic Turf Company
Pioneer Synthetic Turf Company specializes in designing and installing premium synthetic turf projects, ranging from golf course driving range Tee Lines to putting greens, lawns, playgrounds and all-purpose athletic facilities. Pioneer has been a proud to be a part of the STI Team in Southern California for more than 15 years.
Synthetic Turf International's SoftLawn® Bluegrass blend is one of our most popular landscape products. It is designed to replicate the look of well-maintained and high-quality lawn without the headache of maintenance and chemicals.  Synthetic Turf International EZTee is designed to to replicate the green of a golf course with the ability to hold a real tee.
Visit our application page for more information, browse our gallery for ideas and contact STI to Experience A Greener World.