Opening a New Business
When you are building your business, you want it to look as great as possible! One way you can do this is to add synthetic turf to your landscaping. Unlike natural grass, synthetic grass is very low maintenance. This means no mowing, watering, chemicals, or worry of foot traffic killing it. We offer a variety of products that look and feel like natural grass! Adding something like this to the front of your business can boost your curb appeal, and help attract more customers.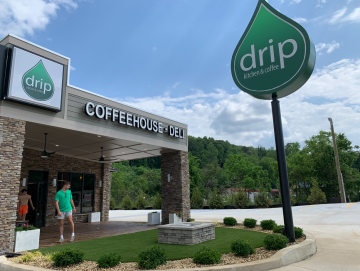 What Product was Used?
STI of Chattanooga installed 360 sq ft of Fresh Zoysia in front of Drip Coffee House. This product replaced concrete that was there from the new construction. Fresh Zoysia is great for high traffic areas because it was constructed with this in mind. This product can be used for more than just landscape, it can be used for fringes, playgrounds, and pet areas as well!
Why STI of Chattanooga?
Drip Coffee House reached out to STI of Chattanooga because of Justin McCosh's reputation. McCosh Landscaping recommended STI of Chattanooga for the job! They wanted to add a bit of green to the front of the business that would look good all year. They wanted it to be a fun place year-round.
A Modern Coffee Shop
Drip Coffee House is located in Dayton, Tn. They are a modern coffee house with a menu that includes gourmet coffee, smoothies, salads, sandwiches, and desserts! They have a drive thru for those who are on the move, but they also space inside as well. This is a great place for you to go grab coffee before work, or to meet with someone to relax and hangout.
If you are thinking of adding some curb appeal or adding some green to your business, reach out to us today. We would love to help you create and modern, year-round, and functional space!
If you have any questions contact us, go to our gallery for inspiration, check out our different applications, and Experience A Greener World!