This installation was completed in August of 2018 and featured Synthetic Turf International product SoftLawn® Fresh Cut Pro. This product was used to complete the sizable 1700 sq. ft. project. What made this project interesting was that it was for a zoo's flamingo exhibit! The new Flamingos exhibit can be viewed at the Turtle Back Zoo in West Orange, NJ.
The only challenge Joe Nardolillo and his Tee to Green Landscaping/STI of New Jersey team faced during the installation was working around the many different contractors in order to complete the job in a timely manner. Now the flamingos can enjoy a beautiful, clean environment for their new home. Completed by Tee to Green landscaping/STI of N.J.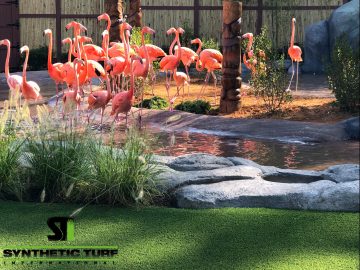 SoftLawn® Fresh Cut Pro is a signature playground product with a thatch layer for added body, reducing the amount of infill required. The two color blend of this surface provides an authentic look and feel that resembles a natural lawn. This product can also be used for landscapes, pet facilities, and golf fringes.