This week's featured synthetic turf installation comes from Ray Francis of Eastern Lawn and Landscape/Synthetic Turf of Virginia located in Manassas, VA.
Ray and his team installed Synthetic Turf Internationals SoftLawn® Premium in our Field/Olive. The install was located at Short Pump Town Center Mall. What makes this project unique is that the mall is an open-air mall so the synthetic turf is a necessity in this setting. The area where the turf was installed was the center courtyard area of the mall. Prior to turf installation the mall would have to re-sod the area every year, as the natural grass could not withstand the high foot traffic of mall patrons.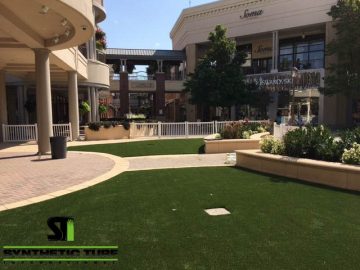 This area is used by the mall for outdoor entertainment and activities so they knew they needed a better solution than what they initially  had in place. Synthetic turf was the best looking and most cost efficient option. 
Choosing a turf that will withstand what you are going to put it through is essential. That is why when STI designs a product made for a specific application they put it through rigorous testing to ensure it performs exceptionally well. Local synthetic turf reps are knowledgeable in all of the products available to ensure that the appropriate product is used for every project. 
As always visit our application page for more information, browse our gallery for ideas and contact Synthetic Turf International to Experience A Greener World.