Recently Jason Deerwester with Elite Synthetic Surfaces worked on a project with a customer located in Oyster Bay, NY. The entire project was a total of 730 square feet.
One of the main issues Jason and his team at Elite had to overcome was the height of the project. They had to find some extra tall ladders in order to reach the space where the turf would be installed, which was around the master bedrooms that had ugly gray space that was otherwise unusable and unattractive. Not exactly your typical install of a backyard or putting green. So Jason and his team worked with the homeowner to figure exactly what they needed. The homeowners decided to go with Softlawn Pet Premium as their turf. Fun fact, they have no pets! The homeowners just loved the shot pile, look, and feel of the pet products!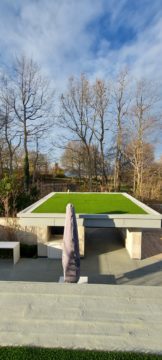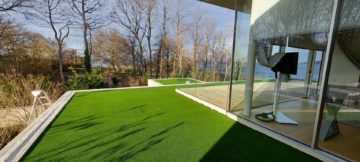 Why did they choose our company? – With it being a difficult install, our professional installers were the best to custom install this job. 
What did they want to accomplish? – The problem is both areas are right outside the master bedroom.  The turf adds so much more color and a much better view now.
Any comments from the recipients – The client loves it and in fact, we are doing another section this summer.  More pictures to come!
About STI Pet Products
• Loved by pets and owners alike
• Lush fresh cut appearance
• Long-lasting and durable
• High flow drainage rates
• No need for harmful chemical,
fertilizers, or pesticides
• Safe for pets of all breeds and sizes
About Elite Synthetic Surfaces
Elite Synthetic Surfaces consistently provides the essential tools for superior synthetic turf installations for every application.
With years of experience and high-quality installation techniques, Elite applies both of these to every project from start to finish.  They are always improving, ensuring that every square inch of turf meets the highest standards of quality.