Featured Application: Synthetic Turf at Two Silos Brewing Company in Manassas, Virginia, Courtesy of STI Virginia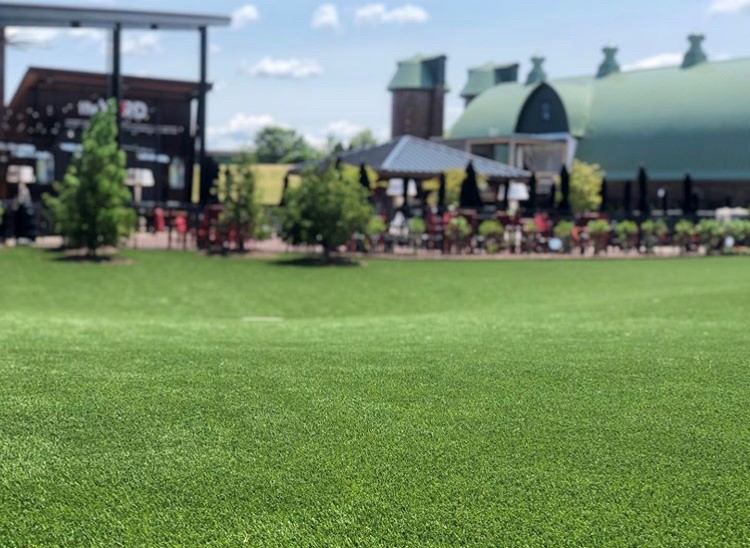 This week's Featured Application comes to us from Ray Francis with STI Virginia in Manassas, Virginia. Ray upgraded this multi-use area with maintenance-free synthetic turf at Two Silos Brewing Company.
Two Silos Brewing Company is craft beer brewery, live music venue and event center located in Manassas.  The brewery is kid-friendly, and hosts live music events every weekend, and some weeknights throughout the summer.  Visitors can lay out blankets and enjoy the live music, beer and food offerings.
The brewery contacted Ray to replace the natural grass they had in the common area.  They were having trouble growing and keeping grass due to the high traffic the area was seeing.  As a result the area was an eyesore that was often muddy and unuseable.
Ray and his team installed almost 7000 square feet of SoftLawn® Bermuda Blend over a compacted aggregate base.  They installed turf in the main sitting area, as well as an overflow area and a play area adjacent to the main venue space.
"Two Silos is a very popular destination in Manassas, and we were honored to be a part of this awesome venue," Francis said.  "They loved the low maintenance and durability of the Bermuda Blend, and its versatility."
Ray and his team completed their Landscape Certification in February.  They joined the many STI Dealers now recognized as Certified Landscape Installers by the Synthetic Turf Council.
Visit our application page for more information, browse our gallery for ideas and contact STI to Experience A Greener World.