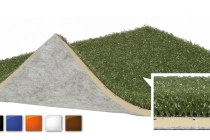 With our network of more than 70 dealers, Synthetic Turf International (STI) has provided high quality synthetic turf for thousands of landscape, golf, pet turf, playgrounds and indoor sports facilities throughout North America. Now we're significantly growing northward by forming an alliance with Synthetic Turf International of Canada (STIC) to aggressively expand into Canada.
Strong market demand prompted this move. With the growing usage and acceptance of synthetic turf in local landscape and golf sectors, Canadians have been asking for better access to our products.  STIC is determined to exceed their expectations at every opportunity.
"We've seen local demand for premium synthetic turf gain significant momentum over the past few years," explained Scott Smockum, President of Synthetic Turf International of Canada. "Through our Canadian distributor network, STI Canada makes the industry's best synthetic turf now available from Victoria, B.C. to Wolfville, Nova Scotia."
This initiative provides a more efficient solution for Canadian residents, golf courses and businesses to enjoy the industry's most diverse and highest quality line of synthetic turf product offerings.  Prices will be in Canadian currency, and the company will manage all shipping, duty, and taxation hurdles that previously existed. STIC headquarters in Kelowna, British Columbia will carry inventory that supplies Western Canada while orders east of Calgary will be shipped direct from STI's U.S. manufacturing facilities in Dalton, Georgia.
The company, through its partnership with leading distributor and installation company GolfWEST, has worked on high-profile Canadian installations such as Ponderosa, Greg Norman's newest championship course in Peachland, British Columbia, the provinces' first fully synthetic par 3 pitch and putt in Penticton, British Columbia, a 9,000 sq. ft driving range cage at Port Carling in Ontario and tee lines at prestigious golf courses such as Marine Drive in Vancouver, British Columbia, and The Toronto Golf and Country Club in Toronto, Ontario. Currently outfitting TaylorMade's indoor testing facility, STIC is also working with top Canadian Junior Coach Rob Houlding in Vancouver to create his state of the art 4000 sq. ft indoor golf training facility.
To learn more about distributor opportunities or STIC overall, visit www.synthetic-turf.ca.