Featured Application: Marriott OceanWatch of the Grand Dunes Upgrades to Sustainable Landscape Turf, Thanks to Synthetic Turf for Myrtle Beach
This week's Featured Application comes to us from our old friend Pete Albanes in Myrtle Beach, South Carolina.  Pete and his team partnered with Indigo Landscape to create  functional and sustainable green spaces at the Marriott OceanWatch Resort of the Grand Dunes in Myrtle Beach.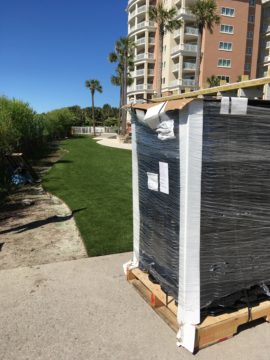 All synthetic turf areas were prepared, framed, and bolstered using a nailer board with a high tensile strength geo-fabric. This system is highly permeable for improved drainage while being ready for intense beach and vacation traffic. The team infilled 1.5 lbs per square foot, blending silica sand with Envirofill to support the fibers of the turf.
This installation included a separate 1300 square feet daycare zone. It also included over 7000 square feet of premier beach front of the GrandStrand in Myrtle Beach, South Carolina. While doing so the Ultra Base Champion panels allowed for better erosion and flooding management.  The team raised the grade more than a foot to this end.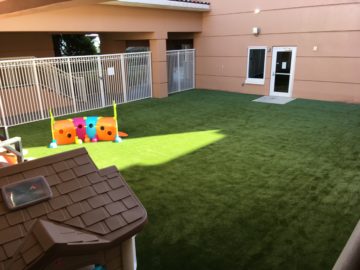 A new 60 linear feet block wall was built that also was designed to address drainage as custom utility storage bins were built. A lush, eco-friendly STI Bermuda Blend greets guests to access beach chairs and common areas year-round instead of dirt and marsh waters.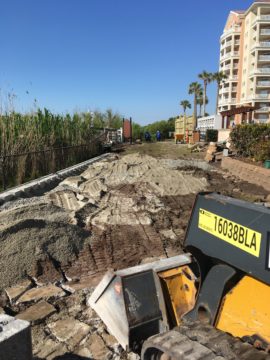 "Amy Steuer and Indigo Landscape and Construction, LLC have been a great partner to accomplish and complete this project for the Marriott OceanWatch Resort of the Grand Dunes, " Albanes said.  He added, "This is an introduction to utilizing superior materials to promote an application of quality synthetic turf. We used an environmentally sound product to support planarity and to increase the life expectancy of the turf."
Visit our application page for more information, browse our gallery for ideas and contact STI to Experience A Greener World.