By Andrew Ross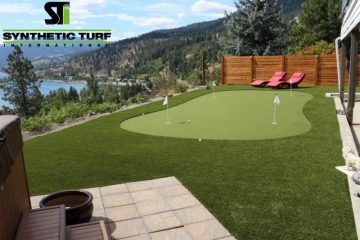 Once you have made the decision to install a putting green in your backyard, you will need to choose whether to use synthetic turf or natural grass. While natural grass may be appealing to you given its look, feel, and playability, there are a number of reasons to opt for synthetic turf.
Installation
If you choose natural grass for your putting green, the installation process will be significantly more cumbersome than if you install synthetic turf. First, natural grass will need proper drainage, so you will need to address those issues underground. Next, you will have to determine which type of grass will suit your particular climate best. Last, you will have to install the grass and wait for it to grow all the while ensuring that it is cared for properly and mowed appropriately. You will face none of these issues or concerns if you choose a synthetic turf putting green.
Location Flexibility
A synthetic turf putting green can be installed almost anywhere you can envision. Also, it does not require sunlight, proper soil conditions, proper drainage and temperature control. Depending on your climate, installing a natural grass putting green under the cover of a patio or a shady tree may not be an option. With synthetic turf, you will not have to worry about these issues.
Maintenance
A natural grass putting green will require near constant maintenance, especially in the spring and summer months when you want to use your putting green the most. Synthetic turf, on the other hand, requires almost no routine maintenance and will last significantly longer than any natural grass. With a synthetic turf putting green, you will not have to worry about watering your putting green, mowing your putting green, aerating your putting green, protecting it against pests or fungi that could ruin it or ensuring that it receives ample light.
Visual Appearance
As we all know well, keeping grass lawns looking their best can be labor and cost intensive. The cost of watering and the time spent mowing, aerating, edging, fertilizing, rolling and applying pesticides will likely decrease your overall enjoyment of your investment. Another consideration is the risk that household pets can pose to natural grass. If your loving cat or dog or any neighborhood pet decides to make your putting green its toilet bowl, it will likely cause brown spots that will ruin its look and require many hours of your time to repair.
Usability
Synthetic turf is usable in almost any condition and during all seasons; depending on where you live, natural grass may not be. Any significant rain or snowfall will make using your natural grass putting green difficult or impossible. You will not face this issue with synthetic turf. With synthetic turf, your investment will be usable year-round.
Conclusion
Most of us would rather spend our time practicing our short game instead of becoming our local greenskeeper. While the look and feel of natural grass may be appealing to most, the factors that go into installing and maintaining a natural grass putting green make synthetic turf a great low-maintenance choice.
Andrew Ross is a former collegiate golfer who spends his days writing and his nights and weekends trying to lower his handicap.
References
https://www.uaex.edu/publications/PDF/FSA-6143.pdf
http://collegeofgolf.keiseruniversity.edu/how-do-golf-courses-cut-the-grass-so-short-on-the-putting-green/
https://cdn.ymaws.com/www.syntheticturfcouncil.org/resource/resmgr/media/benefits_of_synthetic_turf.pdf