Featured Application: Waikiki Beachwalk Gets a Synthetic Turf Facelift Courtesy of NyLawn Synthetic Turf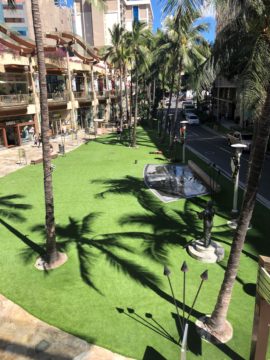 This week's Featured Application comes to us from the island of O'ahu in Hawai'i.  Rory Otto and his team from NyLawn Synthetic Turf installed nearly 10,000 square feet of SoftLawn® Fresh Cut Pro at the Waikiki Beachwalk in Honolulu.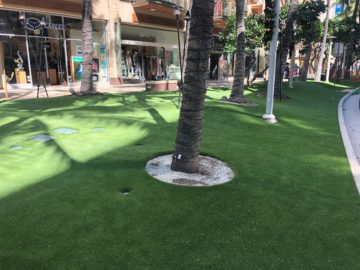 The Waikiki Beachwalk is an open-air shopping and entertainment plaza featuring 20 shops.  There are 14 restaurants and lots to do just a stone's throw away from the famous Waikiki Beach.  The Beachwalk installed synthetic turf in their common area several years ago, but decided that an upgrade was needed.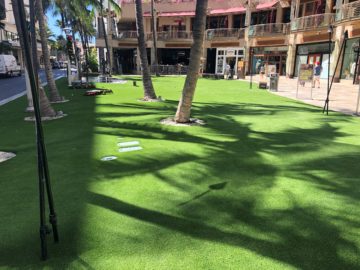 So last fall, Rory and his team set out replacing the turf with SoftLawn® Fresh Cut Pro.  The Waikiki Beachwalk wanted a durable turf that could stand up to the everyday foot traffic that their common area endures.  The plaza is open 365 days a year.  It's the sig of numerous concert events and luaus throughout the week.
Plus, it's a great place to kick of your shoes and let the turf get between your toes.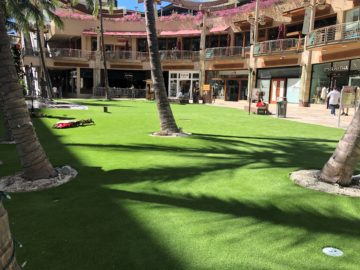 SoftLawn® Fresh Cut Pro is a great landscape product for high traffic areas because of the dense construction, and the XQ yarn that is used to tuft it.  It provides a rich and vibrant color, and can stand up the heavy traffic that the Waikiki Beachwalk sees.
Visit our application page for more information, browse our gallery for ideas and contact STI to Experience A Greener World.