Past PGA Championships at Valhalla have produced dramatic finishes and this year's Championship looks to be no different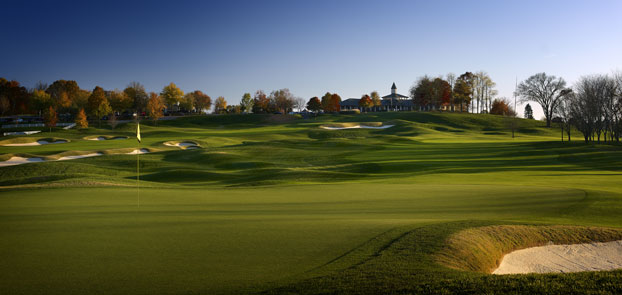 This week the PGA Championship returns to Valhalla Golf Club.
As Rory McIlroy chases his third straight tournament victory (and second straight major) this weekend in Louisville, Kentucky, one can't help but think about all the thrilling finishes that have transpired over the years.
Valhalla hosted the PGA Championship in 1996 for the first time where Mark Brooks won the Wanamaker Trophy in a sudden-death playoff over Kenny Perry.
The second time Valhalla hosted the PGA Championship it was Tiger Woods winning a three hole playoff over Bob May.  That was during Woods' run of four straight major championships, known as the Tiger Slam.
But Vahalla has also hosted the Senior PGA Championship twice.
In 2004, Hale Irwin won by one shot over Jay Haas by making birdie on the 72nd hole. 2011 saw Tom Watson raise the trophy after defeating David Eager in a one hole playoff.
Even the 2002 PGA Professional National Championship had an exciting finish before Barry Evans hoisted the trophy at Valhalla.
So it should come as no surprise that this year's tournament, which includes 20 PGA Club Professionals in the 156 player field, has the makings of another classic.
Valhalla will be a different course from the one played at the Senior PGA in 2011.  Course designer Jack Nicklaus overhauled the entire course in order to update the obsolete irrigation systems.  Along the way, several bunkers were removed and a few other structural changes were made to allow for better drainage on the greens and in other spots around the course.
The fairways, tees and greens are comprised of a combination of T1 and Penway Bent grasses.  The first cut of rough is Kentucky Bluegrass, while the second cut is tall Fescue.
This will be the longest PGA Championship course ever, measuring 7458 yards.  And the greens will be slick, and in typical Nicklaus fashion, protected by several of the 62 bunkers in play this week.  Stimp speeds from previous tournaments at Valhalla have measured between 11 and 12 feet on the Stimp Meter, which is close to where they were believed to be at Augusta in April.
The NP Series of putting surfaces from Synthetic Turf International can replicate those same green speeds to help golfers improve their putting under the same conditions as tour players.  Our highly skilled network of dealers can help design and create the same putting conditions as your local golf club.
Visit our application page for more information, browse our gallery for ideas and contact Synthetic Turf International to Experience A Greener World and a better short game.