Synthetic Turf International continues to be the designer and installer of choice for PGA Tour Superstore putting greens nationwide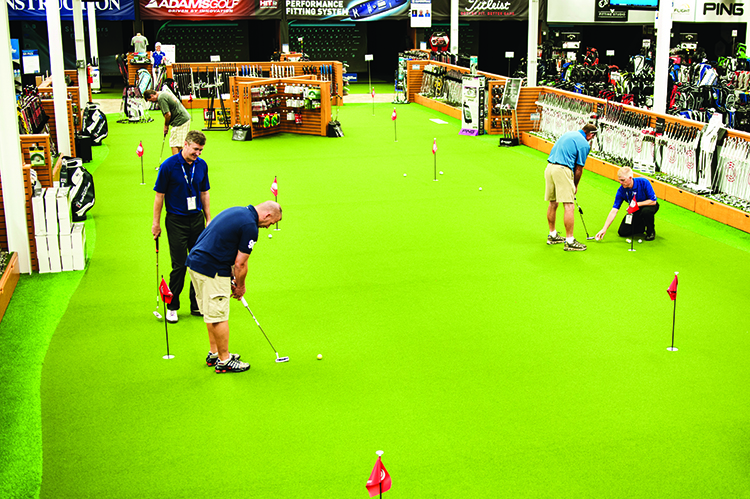 Synthetic Turf International and PGA Tour Superstore are joining forces once again.
In April, the PGA TOUR Superstore announced three new store openings in 2014 and an ambitious growth strategy that will more than double its current retail footprint, adding one million square feet of new golf retail space over the next five years.
PGA TOUR Superstore currently has 19 retail stores ranging from 40,000 to 50,000 square feet per store. Each store has up to 14 custom fitting simulators and practice bays in every location.  The retailer plans to have up to 50 locations by 2018.
"What's different about PGA TOUR Superstore is we purposely design our stores with what the golfers want from an experience and product assortment point of view," said PGA Tour Superstore CEO Dick Sullivan. "When it snows in Chicago or New York, golfers can putt on our 2,000 square-foot putting greens. This experiential format works, and we're excited to roll it out to many more markets over the next several years."
That's where Synthetic Turf International comes in.
Bobby Baughn of STI Atlanta has played an integral part in helping to bring this experiential format to life.  Baughn is a specialist in designing and installing synthetic turf putting greens, and has had a working relationship with PGA Tour Superstores, nationwide, going all the way back to their first store in 2006.
Every one of the PGA Tour Superstore putting greens was designed and installed by Baughn, using STI products.
One of Baughn's putting greens made its national television debut today as a small part of the Fox and Friends U.S. Open Preview segment, when the popular morning show featured the PGA Tour Superstore's club fitting technology.