STI got to meet the 2014 Callaway Junior World Golf Champion when six year old Bella Dovhey stopped by the booth with her dad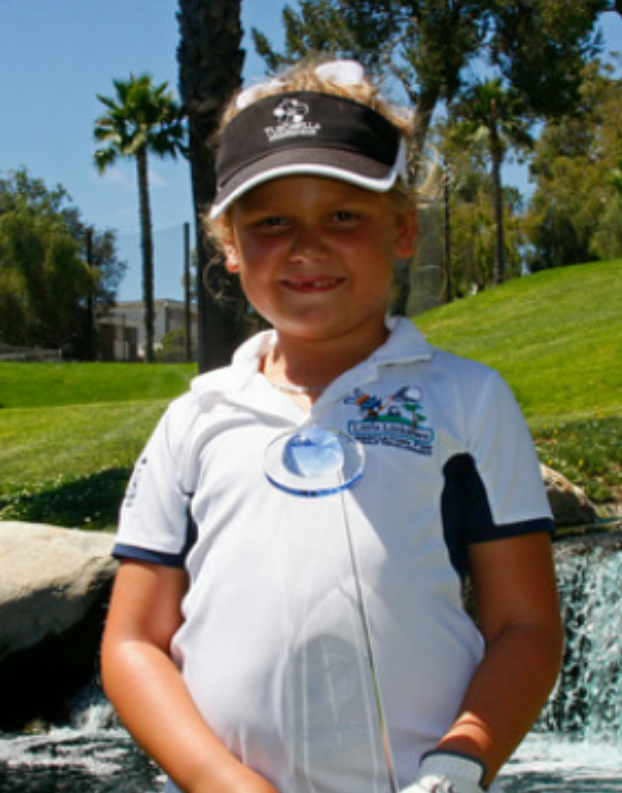 This year, at the PGA Merchandise Show in Orlando, the STI Booth had a special guest.
Her name is Bella Dovhey, and she is the winner of the 2014 Callaway World Golf Championship, which was played last July in San Diego, California.  Bella won the tournament by sinking a six foot par putt on the fifth playoff hole.  The win was one of her 103 first place finishes in 114 tournaments.
She has competed in tournaments around the world, including the US Kids Golf European Championship last May.  During her visit to Scotland, Bella and her father played golf at the Old Course at St. Andrews, the host of the 2015 Open Championship, and Gleneagles.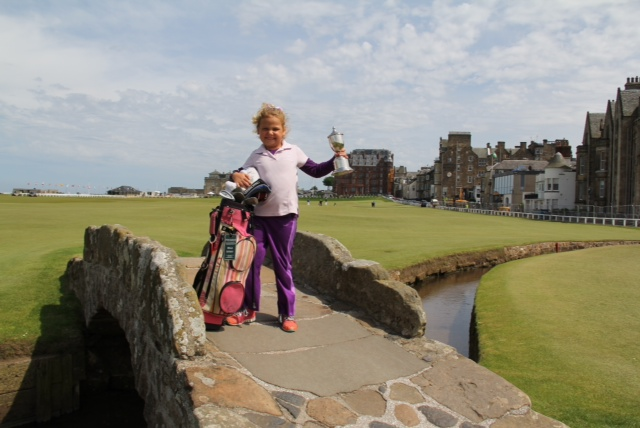 Bella's dad, Mike, attributes her confidence and skill with the putter to her daily practice routine, which consists of 50 short putts before school and before bed on STI turf, to her winning the World Championship.
She practices chipping by hitting over Mustangs.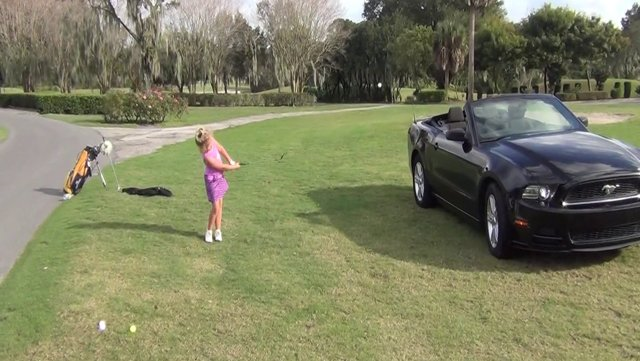 And don't think she's just good for her age.
She matched her all time best round in competition at a US Kids Tampa Tour event, where she fired a 6-under 30 over the nine hole event.During that round, she made six birdies with no bogies.
In 2013, Bella won the 7 and Under Division of the US Kids Regional Championship in Galloway, New Jersey as a five year old.
She's already made a hole-in-one at her home course, Twin Rivers Golf Course in Oviedo, Florida, and has as many eagles in one round as most of us have in our whole lives, two.  Not bad for a girl who has had to play up in a higher age group in 80 percent of the tournaments she's entered.  Against girls her own age, she's undefeated.
She's been featured on the Golf Channel Morning Drive program numerous times, including a backstage visit at the 2014 PGA Merchandise Show.  While there, she was lucky enough to meet Golf Channel hosts Matt Ginella and Holly Sonders, and Donald Trump, who was there for a brief visit.
And Trump isn't even the biggest name celebrity she' s had the privilege of meeting.
At an event in Orlando a few years ago, Bella was hitting golf balls and was spotted by Brandel Chamblee with the Golf Channel.  He asked her to participate in an instructional golf clinic he was giving where the likes of Hall of Famer Barry Larkin, TV host Maury Povich and Detroit Tigers pitcher Justin Verlander were watching her hit golf balls.  Later that night, she met Bryce Harper and Brooks Robinson, another baseball Hall of Famer.  Harper talked with her and her father about the importance of having a supportive family, recalling some of his earliest childhood memories were of his father pitching to him the yard.
A year later, she met Jack Nicklaus, who autographed the glove she was wearing.  And recently she was photographed hitting balls with Paula Creamer.  Talk about rubbing shoulders with celebrities.
Already at a young age, Bella Dovhey is making her mark in the golf world.  She credits STI for helping her to become the player she is, and we hope to be hearing from her for a long time.
Visit our application page for more information, browse our gallery for ideas and contact Synthetic Turf International to Experience A Greener World…and a better short game.