This week's featured application install comes to STI from our dealer in Hawaii, NyLawn.
Founded in 2003 and headquartered in Honolulu, Hawaii, Nylawn is a Licensed Landscape Contractor and Hawaii's leader in synthetic turf .
Founder Rory Otto had a vision to have his very own Backyard Golf Resort. Through vigorous research and testing, it became apparent that Synthetic Turf International (STI) was the choice supplier of synthetic putting greens, lawn, fringe grasses, playground safety surfacing and sports fields.  STI maintains a long line of quality products backed by extensive research and testing, making them the preferred provider of turf for over 100 dealers in North America. NyLawn is currently the exclusive partner of STI for the Hawaiian Islands.
This unique install was in a resident's backyard and included massive Tiki figures in the lawn as well as a backyard putting green.  More often than not when a customer is shopping for their own personal green they end up choosing one of STI's SoftLawn® products as fringe or additional landscaping throughout their yard. This particular product featured STI's SoftLawn® and NP50.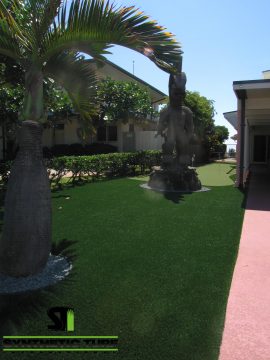 STI's NP50 is the premier texturized nylon putting surface available in the industry today. There is no comparison to the natural ball roll and realistic speeds of our putting greens. The key to the unmatched performance characteristics offered by the NP50 are attributed to the dense, non-directional cross-stitched construction.
Each of our products were designed with a specific application in mind, making them top of the line in quality and aesthetics in the industry.
The NP50 synthetic putting surface is preferred by numerous teaching professionals, top rated golf facilities, tour players and avid golfers alike, which makes it a natural choice for backyard putting greens.
If you are looking for the highest quality synthetic turf putting surface on the market, then you want to choose NP50. It looks and plays great, if you want to improve your lawn and your short game give us a call today.