Synthetic Lawn Turf Application
This featured application install comes from Jeff Graham of Superb Synthetic Turf  in Pompano Beach, Florida.
Jeff and his team installed Synthetic Turf International's SoftLawn® Premium on the lawn and surrounding the pool. Due to the size of project and all of the angles they actually ordered 3300 square feet. The customer was really thrilled with the install. Her son was having his Bar Mitzvah on 1/19 and Jeff and his team couldn't start it until January 7th. His needed to cut the pavers out from around the pool, remove all the pavers, remove grass and 5" to 6" of dirt in some areas. Everything had to be taken out and brought in by wheelbarrows because of her concern about her driveway that had cracks in it. It was 300 feet to the street from the backyard.
As you may know pools are notoriously high traffic areas. Combine that with the chemicals in chlorine from the pool water and you get a natural grass surface would have little to no chance of survival. According to Jeff, "This was one of the most difficult landscape jobs we've done based on all the angles, the large rolls, the logistics challenges (no access) and turf getting rolled out over portions of the pool."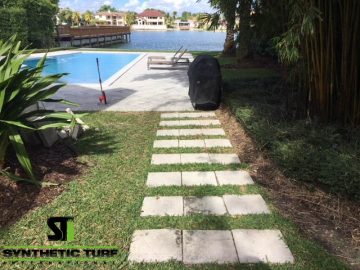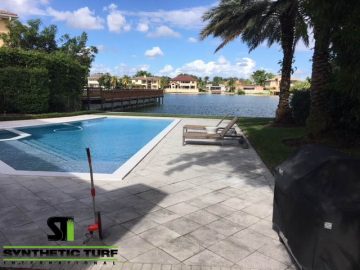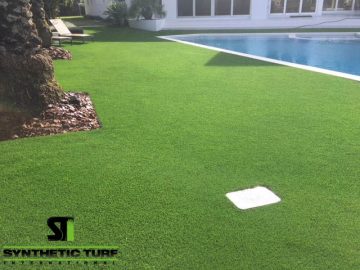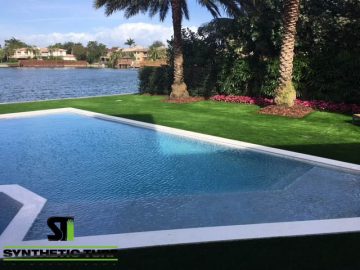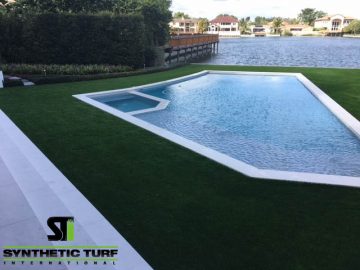 THE ADVANTAGES OF SOFTLAWN® SYNTHETIC TURF
Requires no water
Virtually maintenance-free
Fresh cut appearance
Needs no chemicals or fertilizer
Never needs mowing or insecticides
Clean and can be cleaned – Unlike mulch and shredded rubber
ADA/ABA compliant – Crutches won't sink in and wheelchairs roll
Safety – No more buried glass or other harmful objects
Lead Free
Provides excellent drainage
Recyclable components