Featured Application: Outdoor Putting Green Turf
This featured Synthetic Turf International application comes from Jeff Lazaros of Michigan Synthetic Turf Solutions in Michigan. The install was for an outdoor putting green turf at a private residence using NP45, STI Tourshot and SoftLawn® Kentucky Blue Plus. The homeowners wanted a functional and beautiful space, which lead them to Jeff and  his Synthetic Turf International (STI) team.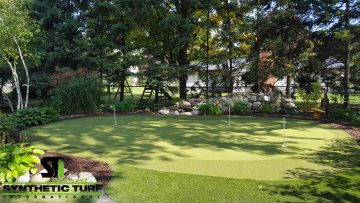 The NP45 is one of the best-texturized nylon putting surfaces on the market. Second only to its higher quality counterparts, NP50 and NP55, this product offers natural roll and realistic speeds for a true putting experience. This turf performs best with the high-end ceramic infill offered by  STI, but NP45 can also be used without infill, which makes it ideal for indoor or portable putting green applications.
STI Tourshot is a dual-colored, sand filled putting surface features a texturized polypropylene yarn system designed to receive chip shots with natural ball roll and less maintenance than conventional sand-filled systems.
SoftLawn® Kentucky Blue Plus is an excellent landscape product, with a thatch layer for added body. The two-color blend of this product provides an authentic look and feel that truly resembles a natural lawn. Kentucky Blue Plus can be used for landscapes, putting green fringes, and playgrounds.
As always you can visit our application page for more information, browse our gallery for ideas and contact Synthetic Turf International to Experience A Greener World."