This week's Featured Application comes to us from Cole McConnell with STI of Idaho. Cole and his team were contacted by a customer located in Eagle, Idaho to replace a green that was installed poorly a few years ago. As any golfer knows consistency around the green is imperative to good play. Even the best golfers in the world's performances are subject to the quality of the green they are playing on.
In the previous turf install the seams were poorly connected and the turf was badly worn. This led to a disappointing appearance and unpredictable ball performance and roll. The customer could no longer enjoy their green for its appearance and functionality. It was an eyesore.
Cole and his team knew they could provide a high-quality product and installation allowing the customer to once again enjoy their backyard. Cole helped the homeowner choose the appropriate products for their needs and was able to provide them with the backyard of their dreams.
The green included a total of 1,100 square feet of usable synthetic turf with the longest putt being 45 square feet and the longest chip of 65 square feet.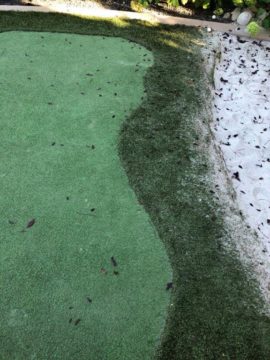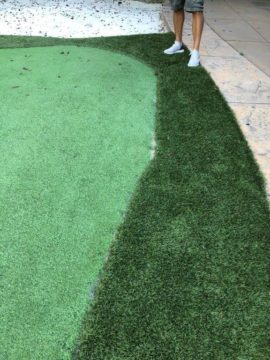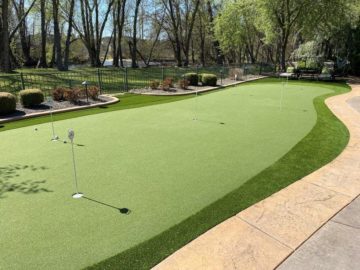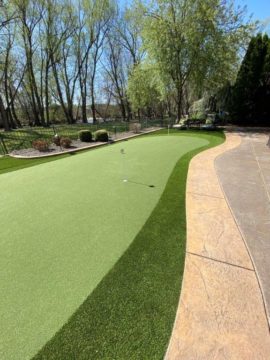 The NP50 is the premier texturized nylon putting surface available in the industry. There is no comparison to the natural ball roll and realistic speeds. The key to the unmatched performance characteristics offered by the NP50 are attributed to the dense, non-directional cross-stitched construction. This synthetic putting surface is preferred by numerous teaching professionals, top rated golf facilities, tour players and avid golfers alike. If you are looking for the highest quality synthetic turf putting surface on the market, then you want to choose NP50. This turf performs best with the high-end ceramic infill offered by Synthetic Turf International, but this product can also be used without infill, which makes it an ideal indoor/portable putting surface.
The SoftLawn® Pro Cut was designed specifically for pet facilities and nylon putting green fringes/collars. The short dense construction offers unique features for durability and ease of use throughout the life of the product. You can rest assured that this product was designed for the high wear experienced in the busiest commercial pet facilities, but its natural aesthetics were kept intact in order to ensure that it can be used in any residential setting or around golf greens. While this product was created with two specific applications in mind, this short fresh cut appearance offers versatility for other scenarios such as pool areas, lawns, landscaping, paver sections, play areas and many more uses.
SoftLawn® Bermuda Blend is a signature playground product with a thatch layer for added body, reducing the amount of infill required. The two-color blend of this surface provides an authentic look and feel that resembles a natural lawn. This product can also be used for landscapes, pet facilities and golf fringes.