This week's Featured Application comes to us from our friends with STI of Atlanta.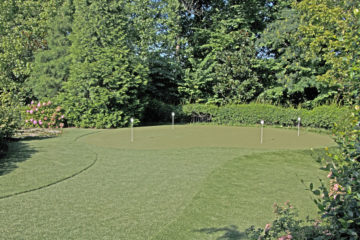 Recently the Goldberg family worked with longtime Synthetic Turf International dealer Bobby Baughn and his team at STI of Atlanta, a certified STC installer, to install a new synthetic turf lawn.
The family's natural grass lawn was simply not cutting it for their needs. The Goldberg's wanted a low-maintenance, but beautiful, putting green to add a fun entertainment area to their outdoor space.  However, maintaining a beautiful, lush, green sod in their backyard would be virtually impossible or extremely time-consuming and expensive.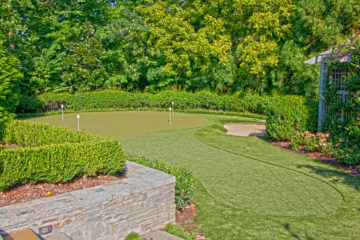 The best solution was installing an STI synthetic turf lawn, a wonderful looking and natural feeling product. SoftLawn Pro Cut, SoftLawn Kentucky Blue Plus and NP50 made for a winning combination, allowing them to mimic the family's favorite golf course without the country club price and time away from family.
The Goldberg's chose Bobby and Synthetic Turf International for our years of experience and quality products and installation jobs. They chose SoftLawn Kentucky Blue and Pro Cut for its attractiveness and soft feel. NP50 was chosen for its quality and effectiveness as a putting green product.
Bobby and his team worked tirelessly to help them choose the best products for their install and they loved the results.
Visit our application page for more information, browse our gallery for ideas, and contact STI to Experience A Greener World