It is that time of year again. MLB All-Star FanFest is here!
Last year STI San Diego,  installed Trainer's Choice and Pro Ball Turf for the MLB All-Star Game Fanfest in San Diego. The project consisted of four separate synthetic turf attractions.  Three of the attractions were located inside of the San Diego Convention Center consisting of a Home Run Derby setup, Fielding Practice layout, and a full replica Indoor Baseball Field.  The fourth synthetic turf attraction is a synthetic turf baseball infield at PLAY BALL Park that allows for interactive use and even whiffle ball games for the kids.
This year the All Star Game and Fanfest are in Miami, Florida.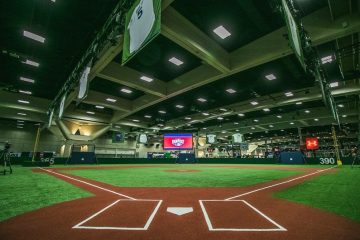 All of these synthetic turf attractions were pre-fabricated using a computer operated waterjet system.  This is the same process used by Synthetic Turf International to create custom logos and layouts for numerous other applications such as indoor training facilities, track lanes, baseball halos, custom logos, end zone letters, number sets, and many other unique projects.
This specific layout created for the MLB All-Star Game Fanfest and PLAY BALL Park in Miami is very similar to the full-sized custom synthetic turf field produced by Synthetic Turf International for the College Football Playoffs Fanfest.  These attractions are all outfitted with portable synthetic turf Velcro seam systems that allow them to be moved from venue to venue with ease, so you will be seeing these at MLB All-Star Games for years to come.
The Synthetic Turf Products
Trainer's Choice:  This non-rubber infilled turf has all the advantages of previous generations of indoor training turf, but performs even higher in wear and resistance tests. The 50-50 blend of nylon and polyethylene yarns gives you the true ball roll of a traditional nylon field, with the softness of the new generation rubber-filled turf. No rubber infill makes maintenance easier, and up to 10% cooler.
Pro Ball Turf:  Typically used for baseball applications, Pro Ball turf is one of our most popular and versatile surfaces. Since there is no need for infill, it's a great choice for indoor and portable applications, and with seven standard color choices, and custom colors available upon request, this is a great choice for locker rooms and agility and training facilities as well.
About MLB All-Star Fanfest and PLAY BALL Park
MLB All-Star FanFest is the largest interactive baseball theme park in the world. For five days, baseball fans have the opportunity to listen to local broadcasts, meet MLB Legends and obtain free autographs. Fans can also participate in baseball training drills, test out their batting skills in the All-Star batting cages, view hometown memorabilia, along with a collection of official awards and trophies of Major League Baseball including the World Series, Home Run Derby and All-Star Game MVP and get their photo taken with the World's Largest Baseball signed by Ted Williams, Hank Aaron, Derek Jeter, Yogi Berra, Willie Mays and others.
Visit our application page for more information, browse our gallery for ideas and contact Synthetic Turf International® to Experience a Greener World.