The winner of the 2017 World Long Drive Championship, Justin James, drove the ball an impressive 435 yards to win Volvik World Long Drive Championship with the longest clincher in the events history.
James hails from Ponte Vedra Beach, Florida and his father is a past WLDC champion and professional wrestler.
Upon his win, James jumped into the stands to hug and celebrate with his wife.
Sandra Carlborg, winner of the women's division, pummeled a 320-yard drive that turned out to be the decisive shot, edging the 316-yard effort of Heather Manfredda to win the title. The win is Carlborg's fifth world title, as the Swede also took home top honors in 2011, 2012, 2014 and 2015.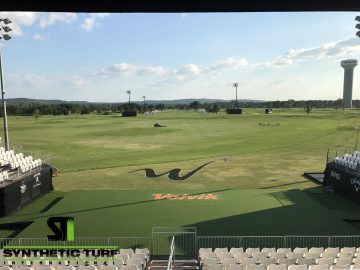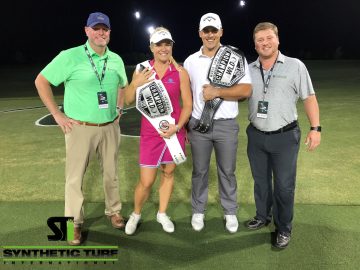 Synthetic Turf International provided the turf for the hitting areas for this event including the Volvik Logo using our EZTee®  and Pro Ball Turf.
Typically used for baseball applications, Pro Ball Turf is one of our most popular and versatile surfaces. Since there is no need for infill, it is a great choice for indoor and portable applications, and with seven standard color choices, and custom colors available upon request, this is a great choice for locker rooms and agility and training facilities as well.
The EZTee® Poly features a non-infilled high-grade polypropylene yarn system designed for heavy traffic tee lines, hitting mats, and extended use golf ranges. This product holds a real tee, allows players to hit all clubs, from a wedge to a driver, and is used by many of the top golf courses around the world. EZTee® Poly does not replace your natural grass, but instead gives the grass time to heal properly. When will you Experience A Greener World and a better golf facility?
Visit our application page for more information, browse our gallery for ideas and contact Synthetic Turf International® to Experience a Greener World!