Our friends at Turf Specialties, LLC install so many projects it's difficult to narrow down the ones we want to feature. This backyard putting green install featured Synthetic Turf International's Kentucky Blue Plus, NP50 putting material and an EZTee hitting mat. The products were chosen so that after installation the customer could hit balls into a net. Turf Specialties also used Tour Links Pro Panels under the putting green. Tour Links greens are extremely durable, weather resistant, UV protected and provide excellent drainage. These rugged panels weigh an average of only 7 lbs. each and are adjustable with the terrain allowing the installers to create realistic contours in the green. The customer is happy and the ball rolls great!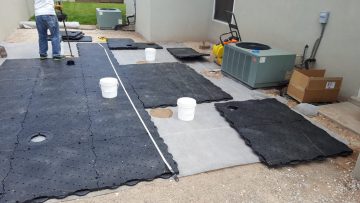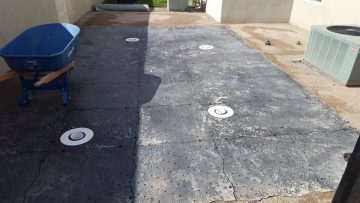 Kentucky Blue Plus
SoftLawn® Kentucky Blue Plus is an excellent landscape product, with a thatch layer for added body. The two color blend of this product provides an authentic look and feel that  resembles a natural lawn. Kentucky Blue Plus can be used for landscapes, putting green fringes, and playgrounds.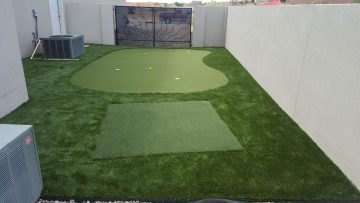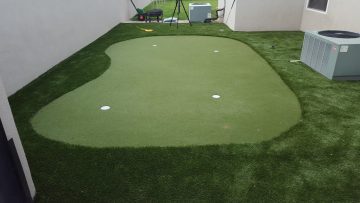 NP50
The NP50 is the premier texturized nylon putting surface available in the industry. There is no comparison to the natural ball roll and realistic speeds. The key to the unmatched performance characteristics offered by the NP50 are attributed to the dense, non-directional cross-stitched construction. This synthetic putting surface is preferred by numerous teaching professionals, top rated golf facilities, tour players and avid golfers alike.
If you are looking for the highest quality synthetic turf putting surface on the market, then you want to choose NP50. This turf performs best with the high end ceramic infill offered by Synthetic Turf International, but this product can also be used without infill, which makes it an ideal indoor/portable putting surface. When will it be time for you to Experience A Greener World and a better golf game?
As always you can visit our application page for more information, browse our gallery for ideas and contact Synthetic Turf International to Experience A Greener World