A PGA Professional in Fillmore, CA wanted something fun to add to his backyard for family and guests. He already had a full-size shooting range, orange orchard, avocado farm, and an ATV course. All as part of his 60-acre ranch. With an available area of 8,700 square feet, and the desire for low maintenance, the decision was made to create a nine-hole putting course. STI's dealer, Pioneer Synthetic Turf, was charged with creating a truly unique design that would fit the client's needs.

Multiple Products Make it Beautiful
This green uses five different products to create a versatile surface: PE True Roll for the putting surface, Bunker Turf for the sand pits, Barefoot Comfort for the fringe, Pro Ball for the water representation, and Bocce Pro for the 12'x40' bocce court. After all the materials were decided, the first big step was building the elevations and drainage locations. This plays an important part with the dynamic design, as the placement of the holes were created to be unique with each shot. Dog legs and molding were incorporated to influence the ball's roll. A bunker was even placed in the middle of one hole for the players to have an obstacle to avoid. The idea was to make the course progressively more difficult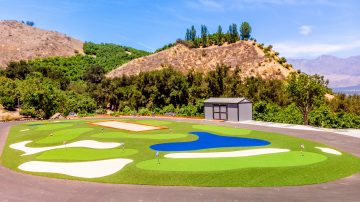 What is a Double Cup?
What makes this install unique, however, was the double-cup design integrated at each of the nine holes. This means that players can play the course in one direction and turn around and play an entirely different game in the opposite direction, ultimately giving the client an eighteen-hole course. The turf was also installed in solid 15' rolls, preventing any seam from interfering with the ball roll. For the fringe, Barefoot Comfort proved to be the best choice due to its non-directional composition. This meant less maintenance for the client, a consistent look from any direction, and static-free to the touch.
This project was a fun challenge for Keith Thykeson, owner of Pioneer Synthetic Turf, who also happens to be a PGA Professional. The client was also thrilled with the result.
For more information you can contact out team, check out our gallery for inspiration, and go to the applications page for more about putting greeens.