STI Featured Application: Jim Petrarca brings us an indoor putt-putt course at the Bavarian Inn Lodge in Frankenmuth, Michigan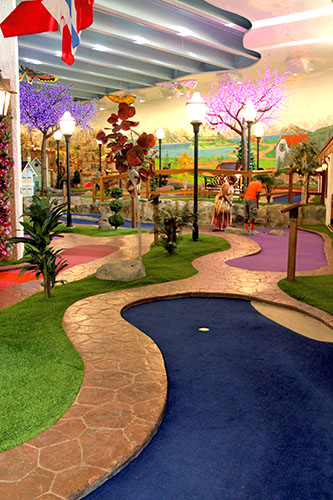 Guests and visitors at the Bavarian Inn Lodge have a new place to play thanks to Jim Petrarca and the folks at STI Great Lakes. The Lodge recently completed an entire facelift of its popular "Willy's Kingdom" 18-hole mini-golf course, with new colors, features, and a whole lot more.
The Bavarian Inn Lodge, nestled along the Cass River in Michigan's No. 1 tourist attraction – Frankenmuth – is the state's largest Indoor Water Park Hotel. The Lodge has 360 European-themed guest rooms, including whirlpool and family suites, four indoor pools, three whirlpools, two water slides, a miniature golf course, two gift shops, two lounges and two restaurants — all under one roof.
Guests can also enjoy live, year round, nightly entertainment and test their own musical skills during weekend family karaoke shows.
Located inside the Lodge's sprawling 35,000 square foot Family Fun Center, the mini-golf course now sports new turf in a variety of colors, together with new foliage, décor, and lighting. The lighting improvements include three new LED-illuminated trees, each glowing with 5,000 lights. The largest of the trees, standing 20 foot tall, regularly changes colors to further delight indoor golfers.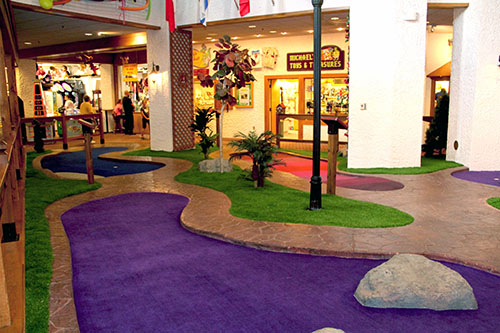 "Renovation of the course began in April and was just completed last month," said Martha Zehnder Keller, Bavarian Inn Lodge vice president of sales and marketing. "We were able to make all of the upgrades gradually during the busy summer months in order to keep the course open for our guests."
She added that in the short time the course remodeling was completed, the Lodge has received many positive comments from guests about the improvements. "The course offers a fun and relaxing golfing experience for youngsters and grown-ups, and a great way for couples and families to spend time together," she added.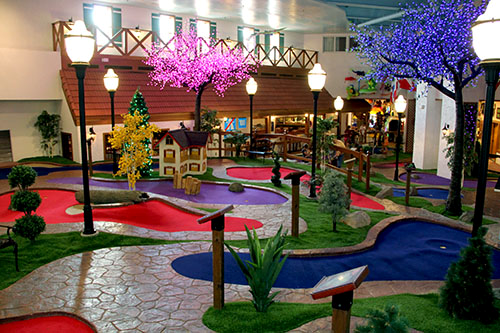 After their round, mini-golfers can catch some "19th hole" fun, food and relaxation at the Family Fun Center's Rathskeller lounge and restaurant, which offers cafeteria-style dining from morning to night, plus a full-service lounge featuring more than 70 beers and malt beverages, and weekend karaoke.
Visit our application page for more information, browse our gallery for ideas and contact Synthetic Turf International to Experience A Greener World.